If the hot weather has you wishing for a cool breeze, you can catch it at
Olele
on etsy where gorgeous Spanish hand fans will have you comfortably passing the time. Karmele has created a grand array of elegant fans, finding her inspiration in beautiful Japanese floral and bold African designs. She expertly stretches starched fabrics over exotic wooden staves to create these very useful eye-catching fashion accessories complete with carrying case. Be sure to see her lacquered fan in stunning black and red.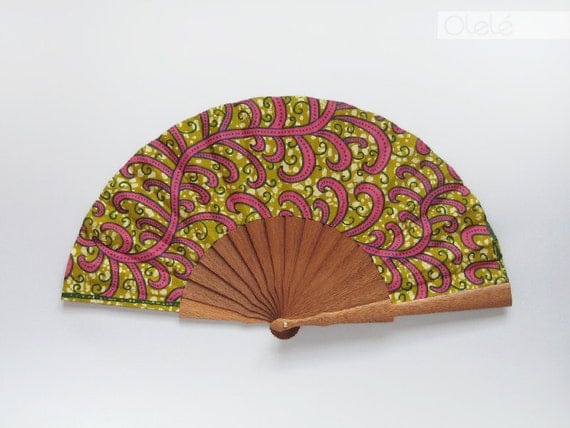 Karmele also keeps busy with a line of snappy fabric backed pocket mirrors. These are quite the handy accessory for any purse, and would certainly be appreciated gifts. She makes interesting fabric covered button earrings too. Special requests are welcomed, and I think her fans or mirrors would make the perfect bridesmaids thank you.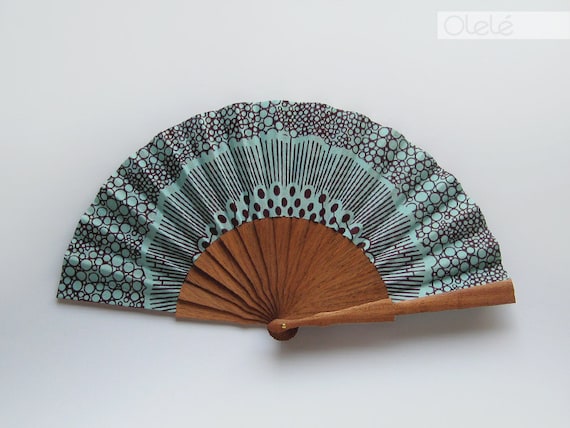 Where would you expect to find the creator of a Spanish hand fan? Why, in Spain, of course. She ships her fashionable fans internationally, can be found on
Facebook
, has a
blog
, and a start on
zibbet
, where I first found her. If you are interested in a left-handed fan, contact Karmele before placing an order to check availability. It's so nice to see an option for south paws.