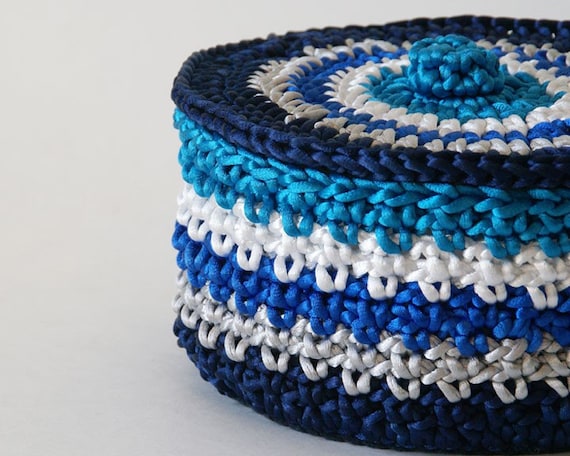 A satin corded basket is what you will find in this crochet artist's etsy shop,
LissaBee Creations
. And yes, if you are thinking of the nursery rhyme, you can order a green and yellow basket. There are so many designs, shapes, and lid or no lid to choose from. Melissa gives her baskets a felt bottom as an elegant finishing touch. Satin cording is shiny and feels so smooth, yet rigid enough to give baskets their shape.
Melissa also makes the cutest little acorn shaped baskets with squirrel charms on the lids out of hemp twine. She has a wide range of hanging decorations that would be perfect on a Christmas tree or can bring cheer to a room year round in your favorite color. As Christmas ornaments, they can be packed away year after year with no worries of breakage. She turns her satin color pallet to unique necklace and pendant designs as well.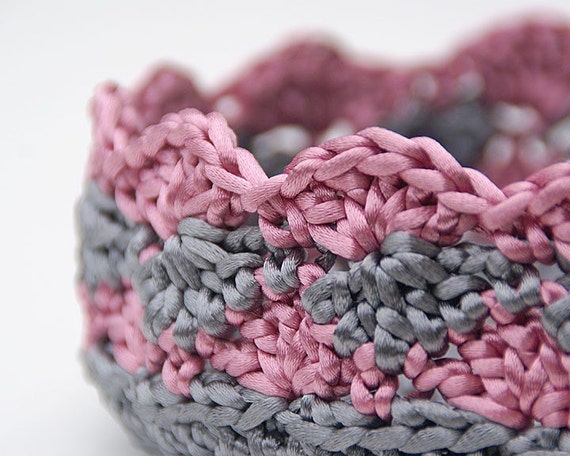 Melissa artistically crochets in Virginia, ships internationally, and can be found on
Facebook
. Satin cording comes in so many beautiful colors, and she is happy to create the perfect basket for you. If you have a basket design and colors in mind, be sure to contact her for a custom order. Think of a basket with a lid as a very special gift box for a small treasure – a double gift for your loved one!