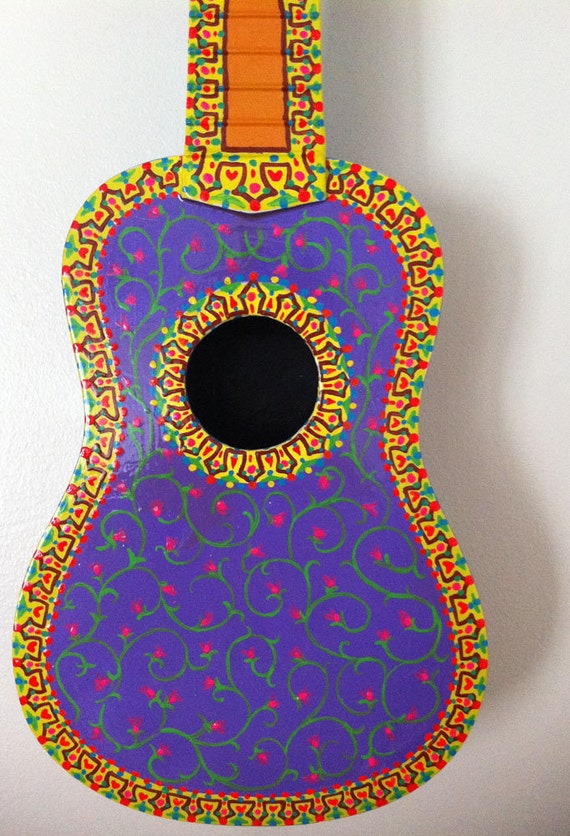 Rescuing instruments that have come to the end of a musical career and turning them into colorful works of art is the passion of this mother and daughter team at
BeesCuriosityShoppe
on etsy. Inspired by the curiosity and wonder of Ashley's wee one they created an awesome recycling program. Retired canvases from the string, woodwind, and brass sections sport paint that seems to dance in bright and cheerful patterns as testament to their former life. Whether privately or publicly displayed, these inventive creations are sure to catch a passerby's eye.
Their talents are not limited to upcycling tuneless discards, and traditional canvas artworks are found in their shop. Boats on a Canal is a wondrous work done in a mosaic painting style. Be sure to see the custom mural listing. If you are in their area and are looking for very unique private or commercial wall art - Wow!
A percentage of the proceeds from their shop goes to Artists for Angels, a charity Deb started locally, providing portraits to parents of children who pass away at birth. They hope their charity will one day be established by artists nationwide.
This magical mystery tour artistically plays from Virginia, ships internationally, and is found on
Facebook
. Stop by their
website
to catch Deb's teaching schedule in Pennsylvania as well as their road show schedule, where you can view these marvelous works in person. Custom orders are always encouraged for instruments or "Off the Easel" art. I am pleased to have discovered another painter with an unusual canvas.