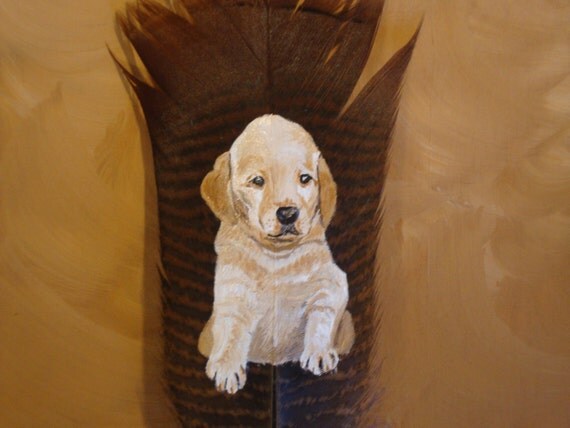 I'm always on the prowl for a painter with a unique canvas, and
KentuckyWildThings
on etsy does not disappoint. Rodger specializes in hand painting turkey feathers, which can range in size from a few inches to over a foot long. I have stroked the vanes and attempted to realign the barbs on many a feather over the years, so I can appreciate the delicate nature of this painter's canvas. His striking works are mounted in wooden frames between Plexiglas for a floating effect, and will impress any exclusive art enthusiast with their one-of-a kind beauty. What do you think of the turkey on a turkey feather?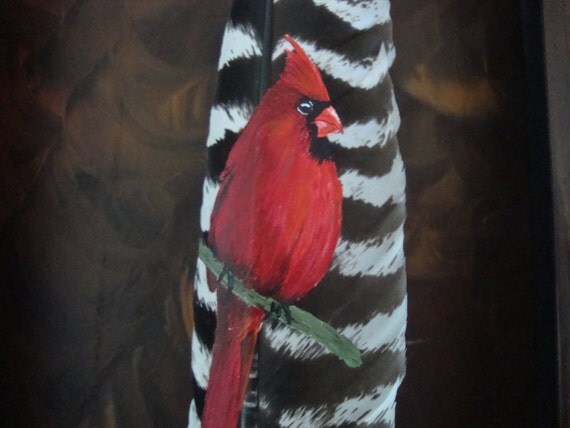 Rodger retired from a career at the Kentucky Department of Fish and Wildlife Resources, where he probably reminded visitors 'Don't Feed The Bears' on numerous occasions. An avid outdoorsman, he continues a love of the great outdoors with his incredible animal art feathers, and also paints this treasured wildlife on Christmas ornaments. The deer decorations bring to mind the prize that eluded my dad and brothers for many years.
Rodger ruffles the feathers in Kentucky, sends his art internationally, and can be found on ebay as featherman10. Be sure to contact Rodger if you are interested in a custom piece. His exceptional works of art are sure to astonish anyone on your gift list. What a unique way to immortalize a family member, friend, or beloved pet. This creative soul also plays the guitar and continues to amaze. Sportsman's Delight is a professionally produced CD with 10 songs written and sung by Rodger!