Put on your hiking boots, grab your walking stick, and explore the
NatureTrail
on etsy. Well worn river rocks are this artist's canvas of choice. Shelli paints the most amazing pet rocks with tile paint, which cures to her stone canvas. Her unique treasures are then finished with tile sealant, making a very durable work of art. Guinea pigs, hedgehogs, cats, bunnies, and birds are among the ark of friendly animals captured on stone.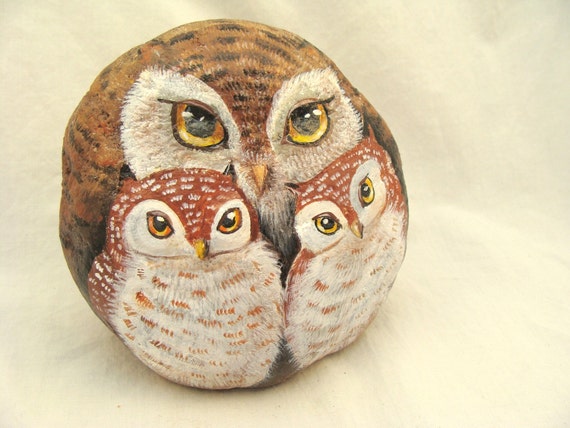 The pièce de résistance has to be Shelli's one-of-a-kind blue dragon mom with her babies. Undertaken as a challenge to create an art piece with scales, I believe she has excelled in the task. This marvelous work of art is now waiting for a dragon aficionado to add it to their collection. Shelli has taken her artistic talents to canvas, capturing the perfect pair of owls peering down from their tree branch. She also has a selection of Scrabble tile pendants sure to delight any animal enthusiast.
Shelli dresses the rocks in Colorado and ships most items internationally. Explore her past sales to see more examples of her incredible talent. She welcomes requests, but due to the nature of her canvas selection, no two art works are ever the same. She can even immortalized your dear pet on a rock or canvas. After a meal, my cats seem to sleep like stones for hours!