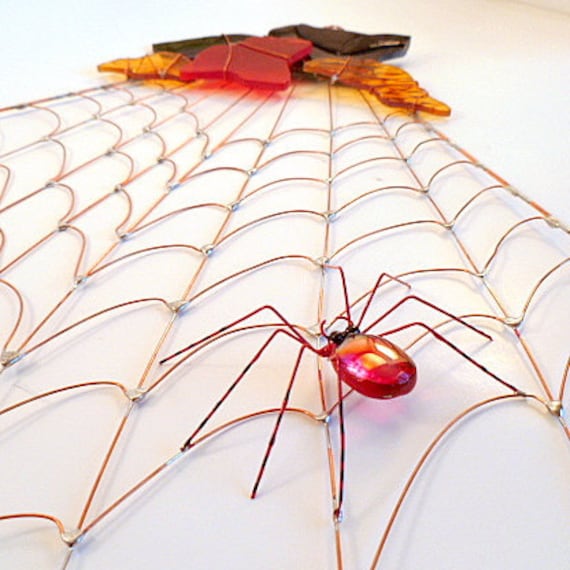 This shop is full of webbed abodes that Charlotte would be pleased to call home.
SpiderwoodHollow
on etsy has a fascinating selection of carefully crafted spider web art and a host of little eight legged beauties waiting to move in. Copper wire and a soldering gun in the hands of this talented artisan won't have you reaching for a can or Raid. Ellen has truly created a friendly collection of exquisitely arrayed arachnids, painting glass and wire to produce unique works of art.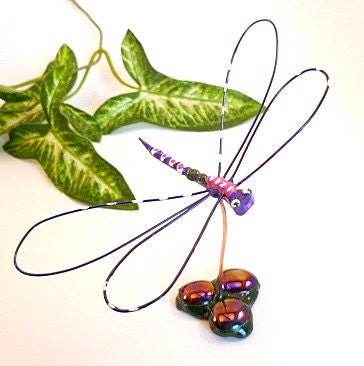 I smiled to see Ellen's dainty black flies remembering my dad saying - Flies spend half their life trying to get into your house, and the other half trying to get out. One of her embellished corner webs would certainly bring interest to the dull corner of a room or hall. Her colorful line of dragon flies is sure to brighten up a bookshelf or entertainment center, and a pair of lady bugs is ready to patrol your windowsill. You will want to keep an eye on this creative artist to see what creeps out of her workshop next!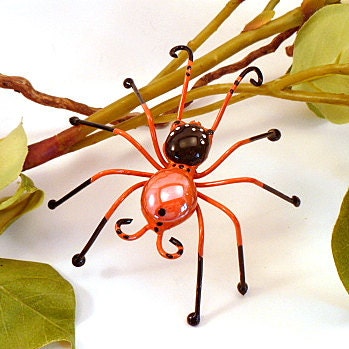 The spinning is done in Washington State with worldwide shipping. If you have a creeping creation in mind, contact Ellen and she will bring your idea to life. Does your Christmas tree need a spider for next year, or do you know someone who will soon be on their own? Ellen has the perfect spider gift for them to continue the German tradition in the telling of the tinsel story.