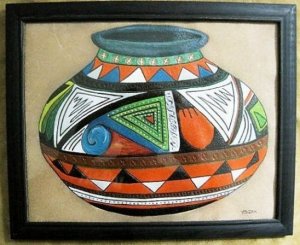 Here is another accomplished painter working with an unusual canvas - leather!
LeatherFlair
on eCrater combines the skill of leather work with the talent of a fine art painter. He merges the longevity and rugged beauty of leather with attractive imagery creating works of art sure to last the test of time. This amazing artist prepares each canvas by hand, familiarizing himself with its unique nature and grain pattern. Professional leather dyes are used to skillfully create lasting artistic pieces ready to enhance your living spaces. Works are signed by the artist and completed with a coat of moisture and UV protection.
Each stunning image is surrounded by a leather border to accommodate framing or cropping. If you are looking for the perfect piece of wearable art for the back of your leather jacket, be sure to view the B-52 Bomber or Wile E. Coyote. He also has a line of stunning leather bracelets with unique carved designs. I like the Black Cobra design. This leatherneck patiently works his pieces in Oklahoma and ships to the United States.